Synergy Management Consulting
As part of our continuous and ongoing improvement process, we have taken on the United Nations Sustainable Development Goals – 2030 Agenda.
This is a two-part process.
Firstly, we are analyzing what we can do in our own business to live the goals and be more sustainable every day and reduce our impact globally. 
And secondly, we have aligned with Goals 4,8,9 and 17 in our business mission as to where we can make the most difference.
GOAL 4: Quality Education
GOAL 8: Decent Work and Economic Growth
GOAL 9: Industry, Innovation and Infrastructure
GOAL 17: Partnerships to achieve the Goal
As such, we are strategically developing rigorous workshops and training (Goal 4) for our clients so that their Change Management and the Transformational Processes be truly sustainable, on a global scale, with real and measurable goals in a 'Success Roadmap', which will, in turn, produce Goals 8 and 9.
We are highly collaborative and seek partnerships (Goal 17) with any and all organizations wishing to advance these Global Goals.
Please reach out to us to find out how a partnership can look for your organization.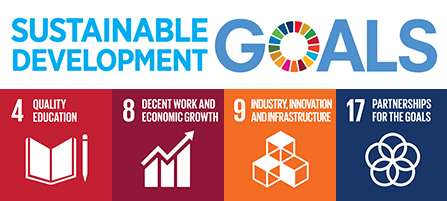 Our Sectors
We serve Executives, Entrepreneurs and Boards of Mid to Enterprise sized Organizations, globally. Including; Multi-Nationals, Countries & States, Governments, Public Companies, Private Corporations, Family Enterprises, Not-For-Profits and Associations.
Our Industries
B2B: Engineering, Technology, Mining & Resources, Renewable Resources, Industrial Services, Manufacturing, Health Care
B2C: Financial, Travel & Tourism, Luxury Goods & Services, Food & Wine, Retail & Wholesale Consumer Goods, Fashion & Apparel, Media & Communications.
Our Vision
Our Vision is that every organization has an inclusive values-based culture that nurtures its people and community, while seeing endless possibilities and creating opportunities for Sustainability, Abundance and Making a Difference.
Our Mission
Our Mission is to transform people and large organizations by developing their Extraordinary Human Potential through our core principles of CULTURE, LEADERSHIP, and INNOVATION as it relates to your PEOPLE and BUSINESS STRATEGY.
Our Values
Our Values demand we work with Integrity and Excellence through Communication, Collaboration and Vision. We encourage Creativity and Innovation, so that we are Being of Service and Adding Value to our Global Communities. Together, we Make a Difference for Future Generations.
Our Promise
Our Promise is to always respect and honour our clients and the communities we serve, and endeavour to work towards the greater good. In doing so, we *GUARANTEE Satisfaction and Results.
Passion with Purpose ™
Ready to start a conversation about achieving breakthrough results?