Mentoring is about knowledge transfer and is increasingly becoming a critical component to any successful organization. Mentoring initiatives contribute to corporate cultures characterized by increased employee engagement, retention levels, productivity, collaboration and much more. Investing in your people through mentoring benefits the organization both now and in the future.
Synergy CMC has a two pronged approach to ensure high retention and maximum results:
One on One Traditional Mentoring

–

Ideal for Senior Management and C-Suite Mentoring [Multi-National Capabilities]

Personalized Online SaaS Mentoring

–

Ideal for Millennials, Leaders and Management [Enterprise Capabilities]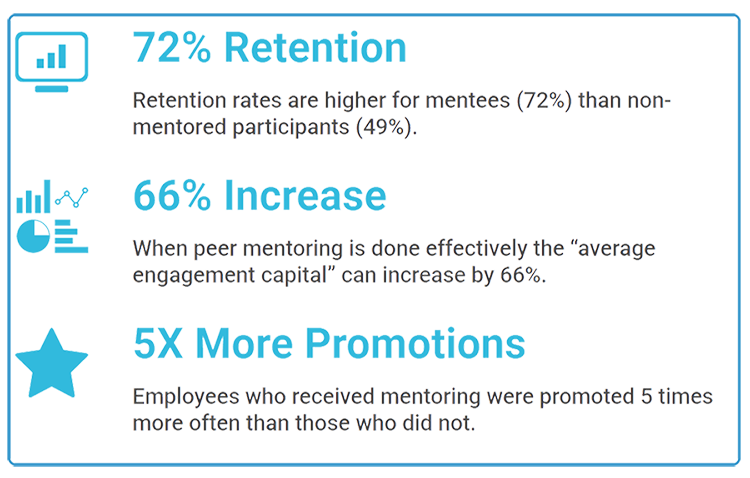 Mentoring Benefits for Organizations:
Gives a recruiting edge.
Speeds identification, development and retention of talent.
Supports organizational commitment to employee personal growth and organizational contribution.
Improves communication and reduction of silos.
Supports knowledge, culture, values and strategy transfer for greater productivity.
Encourages a learning culture.
Increases loyalty and retention with more motivated and engaged employees.
Promotes a greater sense of community and more inclusion with diversity.
Advances succession planning.
Uses the resources you already have.
Millennials
According to the 2016 Deloitte Millennial Survey, 63% of millennials say their leadership skills are not being fully developed. It also found that those intending to stay with their organization for more than five years are twice as likely to have a mentor (68%), than not (32%).
C-Suite
CEOs need mentors. Perhaps it's hard to envision the C-suite looking upwards. But a recent look at how CEOs take on challenges found that the opposite is true: while the options are fewer, mentors are critical. The Harvard Business Review study found that new CEOs hit the ground running by seeking counsel and feedback from top veterans outside the workplace. Of 45 CEOs with formal mentoring arrangements, according to the study, 71% said they were certain that company performance had improved as a result.
Ready to start a conversation about achieving breakthrough results?