The Leadership Pipeline Insitute®
"Building Leaders at Every Level"

What Are the Leadership Pipeline Principles?
The Leadership Pipeline offers principles for mapping and building an efficient and agile architecture
It defines the critical passages that each Leader must go through when moving from one Leadership Role to the next
It defines the expected performance for each Leadership Role in the organization
It will be tailored to meet your organization's needs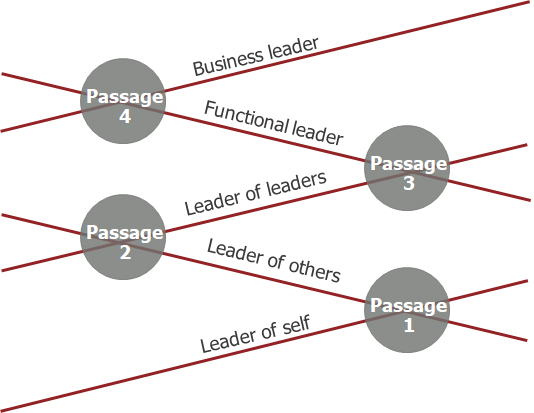 A well-defined Leadership Pipeline delivers important benefits:
By establishing appropriate requirements for the six leadership levels, companies can greatly facilitate succession planning and leadership development and selection processes in their organizations.
Individual managers can clearly see the gap between their current performance and the desired performance. They can also see gaps in their training and experience, and where they may have skipped a passage (or parts of a passage) and how that's hurting their performance.
HR can make development decisions based on where people fall short in skills, time application and work values, rather than rely on generalized training and development programs.
An individual's readiness for a move to the next leadership level can be evaluated objectively rather than tied to how well they performed in their previous position.
Leadership passages provide companies with a way to improve selection. Rather than basing their selection decisions on past performance alone, personal connections or preferences, managers can be held to a higher, more effective standard. Organizations can select someone to make a leadership turn when an individual is demonstrating some of the skills required at the next level.
A defined pipeline provides organizations with a diagnostic tool that helps them identify mismatches between individuals' capabilities and their leadership level. Therefore, remedying the situation or, if necessary, removing the mismatched person, which is more likely.
It helps organizations move people through leadership passages at the right speed. People who ticket-punch their way through jobs don't absorb the necessary work values and skills. The pipeline provides a system for identifying when someone is ready to move to the next leadership level.
It reduces the time needed to prepare an individual for the top leadership position in a large corporation. Because the pipeline clearly defines what is needed to move from one level to the next, there's little or no wasted time on jobs that merely duplicate skills.
From a pure talent perspective, however, the most significant benefit of a pipeline is that you don't need to bring in stars to prime the leadership pump and unclog the pipeline. You can create your own stars up and down the line, beginning at the first level when people make the transition from managing themselves to managing others. By moving people upward only when they have mastered the assigned level greatly increases their chances of success. Clearly defining the new requirements enables them to help themselves and help their direct reports. Everyone wins and so does the company. Recruiting outside for top positions will be greatly reduced.
The Leadership Pipeline
Introduction
The Leadership Pipeline
Leadership Transition Programs
The Leadership Pipeline




Leadership Performance Index
Ready to start a conversation about achieving breakthrough results?